Host profile: Martha Willette Lewis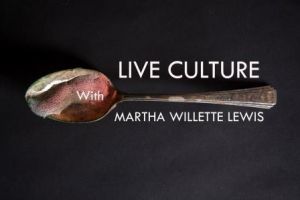 Live Culture is a discussion of ideas in and around contemporary art, with monthly themes and guests. Join host Martha Willette Lewis on the last Saturday of every month from 11am - 12 noon for an engrossing hour of talk and music.
Detailed information about each program, guests and playlists are available on the Live Culture Facebook Page
SUBSCRIBE HERE for a monthly program announcement!
Martha is a practing artist, curator and educator. More about her work exhibits and projects can be found on her website at MarthaLewis.com
Live Culture's logo uses the photograph: Small and Large Thoughts by Joan Fitzsimmons, courtesy of the artist.
Hosted shows