Host profile: Mike Horyczun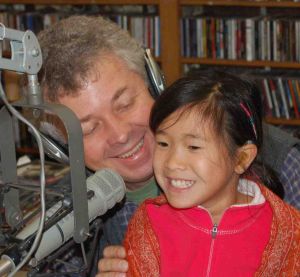 Mike Horyczun hosts an evening drive time radio show on WPKN from 4 p.m. to 7 p.m. on the 1st Wednesday of every month. Mike is part of a rotation that includes Mark Naftalin, Martha Nachman, and Harry Minot. He enjoys sharing all kinds of music on his program, plus live in-studio performances and interviews. Folk, country, rock, jazz, blues, fusion, bluegrass, singer-songwriters, and world music get thrown into the mix, with new and old favorites always on hand. Expect to hear heavy doses of guitars and the contemporary singer-songwriter sounds coming out of Nashville and Austin, TX.
Mike Horyczun has been a fan of WPKN just about all his life. He listened to WPKN growing up, and he was thrilled to be able to get involved and host his own radio show. He's enjoyed the privilege of being on-the-air for a number of years now, and he's also served on the WPKN Board of Directors as Program Director and Music Director. Mike is an established singer-songwriter and has played his originals at music capitals all over the country, like Nashville, Austin, and New York. He's also an established music journalist and media relations expert specializing in museums and galleries, education, and the performing arts. He's written a weekly music column and contributes feature stories to Hearst CT Media.
Mike's daughter Lia (pictured here with Mike) visited the WPKN studios a few years back to say "hi" over the air - she's now in college. You never know who'll be dropping in. Stay tuned and find out.
MOST RECENT PLAYLIST:
Wednesday, February 1, 2023
Grammy Award nominees show:
ARTIST / Song / Album / Label
WILL ACKERMAN / Did I Dream This / Positano Songs / Windham Hill 2022
SAMARA JOY / Sweet Pumpkin / Linger Awhile / UMG - Verve 2022
JOSHUA REDMAN / Long Gone / Long Gone / WMG - Nonesuch 2022
YELLOWJACKETS / Parallel Motion / Parallel Motion / Mack Avenue Records 2022
MASA TAKUMI / Sakura / Sakura (feat. Ron Korb & Nadeem Majdalany) DISTROKID - Utanashi RECORDS 2022
WHITE SUN / Garden / Mystic Mirror / MERLIN - NomaD Crew 2022
JEFF COFFIN / Vinnie the Crow / Between Dreaming and Joy / EAR UP RECORDS 2022
BRAD MEHLDAU / Jacob's Ladder, Pt. II: Song / Jacob's Ladder / WMG - Nonesuch 2022
JEFF COFFIN / In the Belly of the Whale / Between Dreaming and Joy / Ear Up Records 2022
BUDDY GUY / I Let My Guitar Do The Talking / The Blues Don't Lie / SME - Silvertone 2022
BUDDY GUY / Blues Don't Lie / The Blues Don't Lie / SME - Silvertone 2022
ERIC GALES / You Don't Know The Blues / Crown / WMG - Provogue Records 2021
ERIC GALES / I Want My Crown (feat. Joe Bonamassa) / Crown / WMG - Provogue Records 2021
BUDDY GUY / Follow The Money / The Blues Don't Lie / SME - Silvertone 2022
EDGAR WINTER / Lone Star Blues / Brother Johnny / ORCHARD - Quarto Valley Records 2022
BUDDY GUY / King Bee / The Blues Don't Lie / SME - Silvertone 2022
CHARLIE MUSSELWHITE / Blues Up The River / Mississippi Son / MERLIN – Alligator Records 2022
BONNIE RAITT / Just Like That / Just Like That / WMG - Redwing Records 2022
BONNIE RAITT / Made Up Mind / Just Like That / WMG - Redwing Records 2022
MADISON CUNNINGHAM / All I've Ever Known / Revealer / UMG - Verve Forecast 2022
MADISON CUNNINGHAM / Who Are You Now / Revealer / UMG - Verve Forecast 2022
PETER ROWAN / Frog on the Lilly Pad / Calling You From My Mountain / Rebel Records 2022
ROBERT PLANT, ALISON KRAUSS / Searching For My Love / Raise The Roof / Concord - Rounder 2021
ROBERT PLANT, ALISON KRAUSS / Can't Let Go / Raise the Roof / Concord - Rounder 2021
ROBERT PLANT, ALISON KRAUSS / It Don't Bother Me / Raise the Roof / Concord - Rounder 2021
AOIFE O'DONOVAN / Phoenix / Age of Apathy / MERLIN - Yep Roc Records 2021
AOIFE O'DONOVAN Sister Starling / Age of Apathy / MERLIN - Yep Roc Records 2022
AOIFE O'DONOVAN / Age of Apathy / Age of Apathy / MERLIN - Yep Roc Records 2021
MAREN MORRIS / Detour / Humble Quest / SME - Columbia Nashville 2022
MAREN MORRIS / Circles Around This Town / Circles Around This Town / SME - Columbia Nashville 2022
CODY JOHNSON /'Til You Can't / 'Til You Can't / WMG - Warner Nashville 2021
LUKE COMBS / Doin' This / Doin' This / SME - River House Artists/Columbia Nashville 2021
WILLIE NELSON, LUCINDA WILLIAMS / Live Forever / Live Forever / New West Records 2022
ZACH BRYAN / Something in the Orange (Z&E's Version) / Something in the Orange / WMG - Warner Records Label 2022
PLAYLISTS: PREVIOUS YEARS

WPKN, September 6, 2017 (4 p.m.-7 p.m. EST)
ARTIST / Song / Album / Label
LEO KOTTKE / Snorkel / One Guitar, No Vocals / Private Music
LEO KOTTKE / Morning is the Long Way Home / One Guitar, No Vocals / Private Music
PIERRE BENSUSAN / Nice Feeling / Live at National Guitar Workshop, New Milford, CT 7-25-96 / NGW Live
EDWARD WRIGHT / Shepard Moon / The Mirror Rejoices / Edward Wright
BRUCE COCKBURN / Water into Wine / In the Falling Dark / Columbia
EDWARD WRIGHT / Layover / Guitarist / Edward Wright
ISSA BAGAYOGO / Kalan Nege / Mali Kura / Six Degrees
DAVID CROSBY / Hero / It's All Coming Back to Me Now / Atlantic
RUPERT WATES / Prisoner of the Open Road / The Nightwatchers / Bite Music
AMY RAY / Bird in the Hand / Lung of Love / Daemon
ARTHUR LIPNER / Promantha / Two Hands, One Heart / Malletworks
ARTHUR LIPNER / Crystal Mallet / Two Hands, One Heart / Malletworks
STORYHILL / Avalon / Shade of Trees / Red House
FALCON RIDGE FOLK FESTIVAL 2017 (REPRISE)
SAWYER FREDERICKS / How Beautiful / Hide Your Ghost / Sawyer Fredericks
SAWYER FREDERICKS Interview / Live from Falcon Ridge Folk Festival / 8-5-17 / Live
SAWYER FREDERICKS / Pockets (original mix) A Good Storm / Republic
ROD MACDONALD / Only One Angel / Recorded Live at Falcon Ridge Folk Festival 8-5-17 / Live
JIMMY LAFAVE / Walk Away Renee / Austin Skyline / Bohemia Beat
UPSTATE RUBDOWN / No Slack / A Remedy / Upstate Rubdown
LISA ASCHMANN / Planet or a Star / The Sisters / Lisa Aschmann
BROTHER SUN / I Won't Look Down / Weights & Wings / Brother Sun
RED MOLLY / 1952 Vincent Black Lighting /The Red Album / Red Molly
BRUCE MICHAEL MILLER / Dynamite Shack / Faith in Water / Bruce Michael Miller
BOB DYLAN & THE BAND / The Shape I'm In / Before the Flood / Columbia
JOHN HIATT / Something Wild / Perfectly Good Guitar / A&M
YELLOWJACKETS WITH MIKE STERN / Double Nickel / Lifecycle / Heads UpPETE'S POSSE / The Echo / The Conversation / Epact
CHRISTINE LAVIN / The Moment Slipped Away / Spaghettification / Christine Lavin
JUDY COLLINS & ARI HEST / The Weight / Acostic Rainbow Radio Sampler / Poetman
LANTERNA / West Side Highway / Sands / Badman
Playlist, WPKN, August 2, 2017 (4 p.m.-7 p.m. EST)
ARTIST / Song / Album / Label
AYUB OGADA / Obiero / En Mana Kuoyo / Real World
SAMITE / Yangu Ni Yako / Tunula Eno / Triloka-Artimis
ALAN STIVELL – YOUSSOU N'DOUR / A United Earth / Dublin to Dakir / Putumayo
HABIB KOITE / Yassiye / Ma Ya / Putumayo
MONTY ALEXANDER / Could You Be Loved / Goin' Yard / Telarc Jazz
ANDERS OSBORNE / Burning on the Inside / Which Way to Here / Okeh
WOOD / Stay You / Songs from Stamford Hill / Columbia
SHAWN COLIN / Whole New You / Columbia
HARTE ROUGE / Beaupre's Home / Red House
RED MOLLY / 1952 Vincent Black Lighting /The Red Album / Red Molly
JIM PHOTOGLO / Fly Straight Home / Fly Straight Home / Grifftone
ROB WASSERMAN / Thirteen / Solos / Rounder
TOMMY EMMANUEL / Guitar Boogie / Little by Little / Favored Nations
CHRIS DUARTE GROUP/ Drivin' South / Tailspin Headwhack / Silverone
BRUCE COCKBURN / Fascist Architecture / You Pay Your Money / Ryko
LORI MCKENNA / Mars / Pieces of Me / Signature Sounds
ROBIN & LINDA WILLIAMS / High Atmosphere / Sugar for Sugar / Sugar Hill
HEATHER STYKA / Singing 500 Miles / The Bittersweet Tapes / Kite Stripe
HEATHER PIERSON ACOUSTIC TRIO / Thunderous Voices /Singin' / Vessel
HEATHER KENNEY / Whole Life of You / Waltz / Heather Kenney
BOBBY MCFERRIN / Freedom Is a Voice / Bang! Zoom. / Blue Note
BOB DYLAN / Shelter for the Storm / Blood on the Tracks / Columbia
HISS GOLDEN MESSENGER / Lucia / Lateness of Dancers / Merge
ED GERHARD / Shallow Brown / House of Guitars / Virtue
GANDALF MURPHY & THE SLAMBOVIAN CIRCUS OF DREAMS / Never Fit / A Good Thief Tips His Hat / Slambovian
GANDALF MURPHY & THE SLAMBOVIAN CIRCUS OF DREAMS / Alice in Space / A Good Thief Tips His Hat / Slambovian
BRUCE HORNSBY / The Way It Is / Marian McPartland's Piano Jazz Radio Broadcast / Jazz Alliance
BRUCE SPRINGSTEEN / It's Hard to Be a Saint in the City / Hammersmith Odeon, London '75 / Columbia
LANTERNA / West Side Highway / Sands / Badman
Playlist, WPKN, July 5, 2017 (4 p.m.-7 p.m. EST)
ARTIST / Song / Album / Label
JONATHAN BYRD / Close Enough to Touch / You Can't Outrun the Radio / Waterbug
BONNIE RAITT / Love Me Like a Man / Something to Talk About / Rhino
BRUCE COCKBURN / Get Up Joshua / The Charity of Night / Rykodisc
JIMI HENDRIX / Who Knows / Band of Gypsies / Capitol
PETER GABRIEL / Solsbury Hill / Secret World Live / Geffen
PHISH / Bouncing Around the Room / A Live One / Elektra
JOHN BRANNEN / When I'm Satisfied / The Good Thief / Mack Avenue
CROSBY, STILLS, AND NASH / Marrakesh Express / Demos / Rhino
JOHN PRINE / All the Best / Great Days - Anthology /Rhino
BROTHER SUN / St. Christopher / Some Part of the Truth / Brother Sun
GLENN ROTH / I Can See Clearly Now / Got It Covered / Glenn Roth
SHAWN TAYLOR / For What It's Worth / Balance / Shawn Taylor
LIZ CARROLL / Rock Reel Medley / Lake Effect / Green Linnet
NATALIE MCMASTER / Volcanic Jig /Yours Truly / Rounder
EILEEN IVERS / On Horseback / Wildblue / Green Linnet
TOM PRASADA-RAO / Ashes of Love / Follow that Road / Philo
AJ SWEARINGEN – JONATHAN BEEDLE / Flowers Never Bend / Music of Simon and Garfunkel – Live Vol. 1 / Self produced
SHARON VAN EATON / Afraid of Nothing / Are We There / Jag
STEVE RILEY / Hold On / Best of Steve Riley and the Mamou Playboys / Rounder
LEO KOTTKE / Watermelon / 6 and 12 String Guitar / Takoma-Fantasy
IN STUDIO GUEST: Carleigh Welsh, Director of Development and Marketing, Levitt Pavilion for Performing Arts (Westport, CT)
SULTANS OF STRING / Monti's Revenge / Symphony! / Factor
DAVE MASON / Only You Know and I Know / Alone Together / Blue Thumb
JOHN FOGERTY / Born on the Bayou / Premonition / Reprise
ARTHUR LIPNER / Crystal Mallet / Two Hands One Heart / Malletworks
ISABELLA MENDES / The Bossa Nova Project / The Bossa Nova Project / Isabella Mendes
SANTANA / In a Silent Way / Dance of the Rainbow Serpent / Columbia Legacy
Playlist, WPKN, June 7, 2017 (4 p.m.-7 p.m. EST)
Artist - Song - Album
Whirligig – Revolution Earth – Spin
Peter Case – Blue Distance - Flying Saucer Blues
Rupert Waites - Waiting to Begin – The Nightwatchers
Jonathan Byrd – You Can't Outrun on the Radio – You Can't Outrun the Radio
Burns and Cristie – Blue Paper Boat - Caravan
Kerri Powers – Jesse – Kerri Powers
Jimmy Lafave – Walk Away Renee - Austin Skyline
Bob Dylan – Mississippi – Love and Theft
Greg Greenway – Highway 4 am Driving – Standing on the Side of Love
Terry Winchell – Under the Veil of Wilderness – Under the Veil of Wilderness
Terry Winchell – When I Know I'm the Only One - Blue Flower
Rod MacDonald – American Jerusalem – After the War
Mary Ann Kennedy – Barn Cat – Recue Me: A Cause for Paws
Michael Hedges – Aerial Boundaries – The Best Of
LIVE IN-STUDIO INTERVIEW WITH GUITARIST GLENN ROTH
Glenn Roth – Bus Stop – (live)
Glenn Roth – The Letter – Got It Covered
Glenn Roth – Carolina in My Mind – (live)
Glenn Roth – Into the Unknown – Reincarnation
Glenn Roth – Dream On – (live)
Glenn Roth – No Matter What – Got It Covered
Glenn Roth – All You Need Is Love (live)
Glenn Roth – Hallelujah – Got It Covered
Piano Guys – Story of My Life - Wonders
Tom Petty – Learning to Fly – The Live Anthology
Crosby, Still, Nash & Young - Blackbird – CSNY 1974
Jesca Hoop and Sam Beam - One Way to Pray – Love Letter for Hire
Bonnie Raitt – I Will not be Broken – Starbucks Opus Collection
Lanterna - West Side Highway – Sands
Playlist, WPKN, May 3, 2017 (4 p.m.-7 p.m. EST)
ARTIST / Song / Album / Label / Year
O'CONNOR BAND with MARK O'CONNOR / Fishers Hornpipe / Coming Home / Rounder / 2016
PATTY LARKIN / Good Thing / Angels Running / Windham Hill / 1993
MADDIE & TAY / No Place Like You / Start Here / Republic / 2015
PESKY J. NIXON / Drove Ol' Dixie Down / Red Ducks, Vol. 2 / Pesky J. Nixon / 2015
DUCK BAKER / March of the King of Laoise / Kid on the Mountain / Fantasy / 1999
BRUCE COCKBURN / Islands in a Black Sky / Speechless / True North / 2005
DARRELL SCOTT / Heartbreak Town / Aloha From Nashville / Sugar Hill / 1997
PASSENGER / The Wrong Direction / All the Little Lights / Black Crow / 2012
ELLIS / City on Fire / Break the Spell / Rubbermeck / 2008
DEREK TRUCKS BAND / Rasta Man Chant / Soul Serenade / Columbia / 2003
DEREK TRUCKS BAND / Kickin Back / Out of the Madness / House of Blues / 1998
SHAWN MENDES / Ruin / Illuminate / Island / 2016
JAMES VINCENT McMORROW / Rising Water / We Move / Faction / 2016
ELVIS COSTELLO / Beyond Belief / Unfaithful Music / Universal / 2015
BO REYNOLDS / Going back to Houston / Out in Texas / Bama / 1999
CALEXICO / Tapping on the Line / Edge of the Sun / City Slang / 2015
LISA LOEB / Fools Like Me / The Way It Really Is / Zoe / 2004
SHAWN COLVIN & STEVE EARLE / Tobacco Road / Colvin & Earle / Fantasy / 2016
LIVE IN-STUDIO INTERVIEW WITH SINGER-SONGWRITER RUPERT WATES
RUBERT WATES / I Dream / Dear Life / Bite Music / 2008
RUBERT WATES / Oh the Times / Live (premier) - Live
RUBERT WATES / The Sound of Applause / Dear Life / Bite Music / 2008
RUBERT WATES / Prisoner of the Open Road / Live
RUBERT WATES / Lady Grey / Colorado Mornings / Bite Music / 2016
RUBERT WATES / Waiting to Begin / Live
RUBERT WATES / Suspend Our Disbelief / The Rank Outsiders Ball / Bite Music / 2014
RUBERT WATES / After the Rains / Live
RUBERT WATES / Prayer / The Nightwatchers / Bite Music / 2015
AMY MANN / Freeway / Smilers / SuperEgo / 2008
ALICIA KEYS / Work on It / Here / RCA / 2016
DURHAM COUNTY POETS / Chikkaboodah Stew / Chikkaboodah Stew / Durham County Poets / 2014
GOODNIGHT MOONSHINE / All Our Friends / Goodnight Moonshine / Goodnight Moonshine / 2013
LANTERNA / West Side Highway / Sands / Badman / 2002
Hosted shows