Host profile: Herman Olivera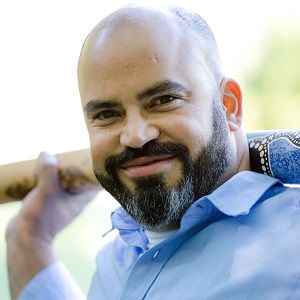 Show:
Re/Humanize Yourself Radio w/ Herman Olivera
Description:
My greatest passion in life has always been music.
Most kids had toys on their Christmas lists , but I would ask Santa for vinyl records and cassettes. You see as a child I was raised on radio because we always had one on in the house or playing in the car. As a youngster my parents exposed me to all different types of music ranging from The Beatles, Rolling Stones, Chuck Berry, Motown , Salsa , Latin, Disco, Country, R&B, etc. My Grandmother Maria and Aunt Daisy who helped watched over me while my parents worked also fueled my passion by frequently gifting me records and cassettes. They also both feverishly loved to sing and dance around the house to music. All in all I have experienced a lot of simple yet priceless moments to reflect back on that I find great comfort in. All I have to do is listen to certain tunes and they transport me back to a particular place in time.
My parents weren't big concert goers, so I vowed when I grew old enough that I would catch every concert possible on my own. Fortunately I was raised in Bridgeport, CT where I had easy access to Metro North trains to the hottest venues in New Haven and New York City that attracted all types of artists and bands. Let's just say there was never a shortage of epic shows from all genres stopping in our Tri-State area and I took advantage of them all.The sad thing is a lot of my favorite venues are no longer in existence due to gentrification, but the awesome memories remain. Now I make different concert memories with my 7 year old daughter who my wife and I started her concert career early with shows like Paul McCartney, Sheryl Crowe and Taylor Swift to name a few.
You would think that I would've ended up working in the music industry in some capacity, but I chose another so called safe and secure route.Career wise I was in the world of finance and mortgage banking for several years until I decided to consciously remove myself. Let's just say I had a higher calling to serve as a catalyst to help clients reach their fullest potential and transform lives as a certified personal/professional development coach. I also serve in a higher capacity as Shamanic Practitioner trained in the Amazonian and Andean traditions. It's ironic that I use music as as a tool with indigenous sound healing approaches. Music motivates, lifts the human spirit, energizes and elevates moods. When used properly it's proven to be the most potent medicine around that doesn't require a prescription and nourishes the soul.
The mission and purpose behind my show RE/Humanize Yourself Radio w/ Herman Olivera is to not only to celebrate music, but to optimize the listeners experience through interviews from various noted guests and shared tips geared towards uplifting the mind, body and spirit. I look forward to continue to serve the WPKN community and beyond. Thank you in advance for taking this journey with me.
email me at herman@hermanolivera.com
Hosted shows