Host profile: Mystery Girl Radio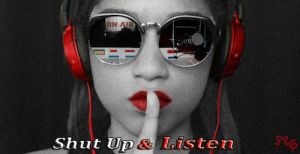 Mystery Girl. Host of "Shut Up & Listen". Broadcasting live on WPKN 89.5 FM (Tri-State), worldwide online at WPKN.org, and on the WPKN Live phone app.
Shut Up & Listen is a music/talk show featuring interviews with artists, entertainers, creatives, and entrepreneurs; and highlights of the latest events and happenings in music and entertainment. The show's #MysteryMix playlist segment puts a spotlight on music from independent, up and coming artists. Based in Connecticut, the show has a heavy focus on the Tri-State area.
Who do we interview? If you're making waves in the music & entertainment industry, let's talk! (singers, songwriters, musicians, Djs, producers, rappers, entertainers, comedians, actors, etc.) If you're doing something outside of that realm, the mic is on for that too. If you have something interesting to share and you're passionate about it, Mystery Girl wants to hear it.
What do we play? Everything! While the show puts a heavy focus on Hip Hop, R&B, and Pop; Shut Up & Listen's versatile playlists reflect a love of all music. Good music is good music and exposure to different genres and styles past and present allow a true appreciation for the art and constant evolution of music. The show also features live in-studio performances by special guest DJs, artists, bands, and more.
For show episodes, videos, schedules, and more visit: MYSTERYGIRLRADIO.COM
Show Co-Host: DJ Enigma

Show Photographer: ShotByTamrock
Hosted shows