Host profile: DJ Grey Wolf (FM)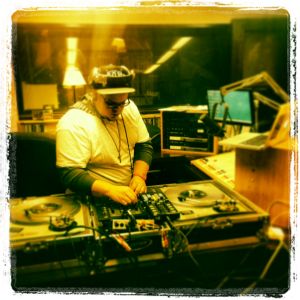 I spin Hip Hop, Dance Music, Top40s, Dubstep and occasionally I'll throw in some Rock. I've DJed for WPKN FM Radio, private parties in Connecticut and Massachusetts. My focus right now is DJ battles/ competitions, producing commercials and helping out wherever needed for Bridgeport's WPKN 89.5 FM Radio.
But, let's rewind to day one:
I got my first taste of making music in middle school as a percussionist. I only learned the bare minimum because I was involved in other stuff, too. But, I took that knowledge developed my own "desk music." I quickly earned a seat and a desk at the farthest point of the room: I easily tapped away any patience my teachers had for me and my habit. (I also had an ear for the change of pitch and would experiment by drumming with my hands on even more surfaces - and getting into even more trouble, of course.)
Anyways, somehow, in the midst of all my antics: I became the schools Sound Coordinator - I had finally found my calling in the sixth grade! I was quickly recruited for paid events but my mom deemed me "too young." So, I took advantage of every opportunity at school to get out of class and set up PA systems and tweak the levels.
Later, when I was thirteen I was hooked: I was exploring spirituality and again somehow I became the Sound Engineer for live Sunday Services, Prayer Services, and Young Adult Services. I was having the time of my life using the church's 32 Channel Mixer. I was actually creating engineering live! To see everything come together was priceless. I could have died and gone to heaven, right then.
In college, I tried out for college radio (University of Connecticut's WHUS) but I was too busy drowning in paperwork and other Freshman stuff.
Stay connected to DJ Ren via CoolDJRen@Gmail.com | CoolDJRen.Wordpress.com | RadioClubRadio.Wordpress.com
Hosted shows