Host profile: Binnie Klein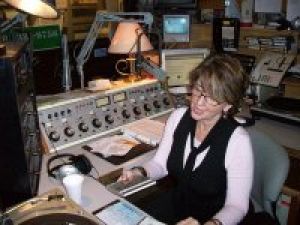 My music and interview show, A Miniature World, airs the first and third Thursdays, from 10 AM until Noon.
My musical tastes swerve through Euro-pop, trip-hop, electronica, indie-rock, singer-songwriters. You might hear Icelandic rock, World music, Radiohead, Bjork, Tricky, Kate Bush, Cocteau Twins, The Books, Devotchka, weird cover tunes, Milosh, Stevie Nicks, PJ Harvey, Cat Power, Owen Pallett, Hot Chip, Dandy Warhols, Sarah Fimm, Karsh Kale, La Nouvelle Vague, Moby, Patti Smith, Juana Molina, Peter Gabriel, to name a few.
My interviews have included Dick Cavett, David Denby, Harry Shearer, Katha Pollitt, Bert Randolph Sugar, Abigail Thomas, Carl Safina, Matthew Klam, Gretchen Rubin, and many more!
An occasional feature is "Apes Update" (news about the survival and intelligence of gorillas, chimpanzees, and orangutans).
I've been connected with WPKN since 1976.
I maintain a private psychotherapy practice in New Haven, CT, and am a Lecturer in the Department of Psychiatry at Yale University. My memoir, "Blows to the Head: How Boxing Changed My Mind" (SUNY Press, January 2010) is available through Amazon, SUNY Press, and independent bookstores. The paperback edition will be coming out in Fall of 2020, with a brand new "Afterword." I have a sweet Havanese dog named Halia, and a mini-schnauzer mix named Sebby. They are WPKN listeners.
Hosted shows