Host profile: Kevin Gallagher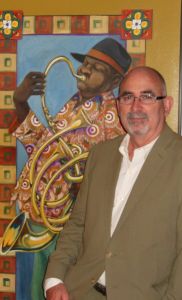 "New" - Kevin's favorite music for 2018 - Albums songs Latin Jazz and Jazz - Scroll own
Passionate about WPKN radio, Live Music, Our ecology, Progressive Politics, Gourmet cooking, good red wine, detective novels, John Garfield movies, gardening and farming.
Audio/Video - Documentarian. Businessman selling Organic Lawn and Garden and farming products.
Digging in the Dirt - Mondays at 5 pm
Digging in the Dirt is Kevin's, ½ hour or so, interview program where we dig a little deeper into subject matter that gets little play in the so called mass media. I'm interested in healthy food, farming, gardening, Climate change, pollution and a myriad of other environmental issues and growing tomatoes. My guests have included everyone from Dianna Cohen the co-founder and Executive Director of the Plastic Pollution Coalition, Mark Fulford a well known, independent farm consultant and educator, Dan Kittredge founder and Executive Director of the Bionutrient Food Association, The award-winning climate scientist Michael E. Mann, Ct. Organic farmer Bryan O'Hara, garlic farmer Doug Johnson of Sunrise, Sunset Farm in Woodbury CT. and many many other farmers, scientists and leaders of the healthy soil movement. A lot of talk about soil and dirt from people like Ray Archuleta, Micheal Astera, Dr. Elaine Ingham, Paul Bogard and Doug Decandia of the BFA. If you like to garden or worry about the future of our Mother earth for our children and our children's children, listen in.
Kevin Gallagher's - Favorite Albums of 2018
Charles Lloyd and the Marvels with Lucinda Williams -Vanished Garden – Blue Note
Betty Lavette – Things have changed
I'm with her - See you around
Eric Bibb – Global Griot
John Prine - the Tree of Forgiveness
Courtney Barnett – Tell me How you feel
Rodney Crowell – Acoustic Classics
Buddy Guy – The Blues is Alive and well
Ben Harper & Charlie Musselwhite – No Mercy in this land
Van Morrisson - The Prophet speaks
Kevin Gallagher's Favorite ten Songs of 2018
No Roots – Alice Merton – No Roots EP
Dust - Charles Lloyd & the Marvels with Lucinda Willams – Vanished Garden
Ain't that fine – I'm with her – See you around
We don't care – Eric Bibb & Habib Koite _ Global Griot
The Prophet speaks/Aint gonna moan no more – Van Morriision - Singles
Two men talking - Tom Petty - An American Treasure
Vote 'Em out & God's Problem child– Willie Nelson – Live single
John Brown- Marc Ribot w/ Faye Victor – Songs of Resistance 1942-2018
Things have changed – Betty Lavette - Things have changed
The only Thing worth fighting for _Rosanne Cash – She remembers everything
Bonus
The storm won't come – Richard Thompson – 13 Rivers
Mandolin Orange - Golden Ember - Tides of a tear Drop 2019
Kevin Gallagher - Favorite Latin Jazz CD's of 2018
Jazz Tango – The Pablo Ziegler Trio -
West Side Story Re-imagined - The Bobby Sanabria Big Band
Cinque – Elio Villafranca
Jazz Latin – Bill O'Connell w/ Lincoln Gomes & Robby Ameen
Encountras – Orquestra Atlantica -Antonio Adolfo Hybrido Grammy Nominee
The Grand Concourse -Dayramir Gonzales
Bata 2 – Chucho Valdez
Back to the Sunset – Dafnis Prieto Big Band
Full Circle & Miz Luz Mayor - Eddie Palmieri 82 years old
Landmark – Mika Pohjola, Miguel Zenon, Johanna Grussner, Fernando Huergo
Kevin Gallagher's - Favorite jazz CD's of 2018
New Jawn– Christian McBride
Heaven and Earth - Kamasi Washington
Presence – Orin Evans and the Captain Black Big Band
Thicker than Water – Brian Bromberg
Super Best - Ahmad Jamal 88 yrs
Live at the Albert hall -Gregory Porter
Joshua Redman – Still Dreaming
Julian Lange – Modern Lore
Cecile McLorin Salvant - The Window - Mack Ave
Emanon - Wayne Shorter -Blue Note


Hosted shows